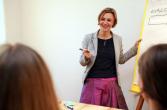 We are opening new course for schools, career consultants, psychologists and other professionals who help people to reach their potential.
Learn new techniques how to work with clients in the heart of Europe.
Explore a special English training course for career consultants, teachers, psychologists and other professional.Sign up for an intensive 40-hours (5 days) training course of CH-Q method and get a comprehensive tool for working with clients - help them grow and identify their strengths, talents and passions. Course could be fully covered by the Erasmus+ grant.