Erasmus+ training course: Art Therapy as a Tool for Career Development and Education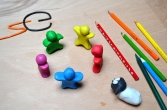 Explore a unique course, taught in English, for career development professionals, teachers, psychologists, coaches and other professionals. Sign up for an intensive 5 days training course that will provide you a powerful tool of Art Therapy in context of personal development, education, career guidance or coaching. The course is based on interactive methods and includes many interesting and practical activities.
What is Art Therapy?
We can understand it as a bridge between art, culture or entertainment on one side and education, personal growth and career development on the other. On a personal level, art therapy is a link between rational self and the intuition. Art therapy uses the creative process of making art to improve a person's physical, mental, and emotional well-being. As Mark Savickas says "our clients need help clarifying that the self is a unique story and not simply a list of traits".
What will I do?
At the course we are going to introduce to you a whole range of creative methods including visual art (such as craft, photography, film, collages), drama, music, creative writing, storytelling and other. You will get a set of worksheets for all the activities. The course will combine individual and group work. The educational process will include outdoor creative work in the heart of the city centre.
You can try all the techniques we offer, but everything is voluntary, your comfort and positive experience are our priorities. What we can guarantee is respect (and fun).
All the techniques we are going to explore are suitable for different target groups and can be used for children as well as for adults.
For whom is the training?
For counselors, coaches, psychologists, teachers...for everyone who wants to get better in their field.

For those who would like to add more creativity in their work and life.

For the professionals who want to help the clients to identify their strengths, talents and passions.

For those who would like to try new techniques.

For everyone who wants to get better knowledge of himself/herself.

Neither you nor your clients have to be talented or artists to use the techniques and receive the benefits
Who will teach you?
Our trainers are experienced career coaches with background of creative competence mapping, art therapy and improvisational theatre.
When and where the training will be held?
The training will be held in Prague, Czech Republic. You can choose from two terms: 
25th - 29th April 2022

3rd - 7th October 2022
What is the price?
The price of 5 days intensive training per person is 690 euro. A non-profit and educational organization can get an Erasmus grant for the admission and also for an accommodation and transportation. Find out how to pay the education from the Erasmus fund in our article here.
Why to chose our company? Find out more about us and our lecturers here.
How to sign up?
If you are interested in this training or other courses for career consultants, let us know by email martin.petras@ekskurzy.cz.  We´re eager to assist you and develop tailor made course that match to your training needs. Just contact us and briefly present your situation.
Note: The upcoming deadline for applying for grants of the Erasmus+ programme is in February 2022. There is only one funding deadline per year and this deadline is for grants for courses we run between summer 2022 and summer 2023.
Complete program
Day 1- Introduction (9 am – 5 pm)
What is art therapy

The role of creativity in the educational and counselling process

Art therapy, creativity and the skills for the future

How can we support our creativity (games and techniques)

Focus on the self-awarness
Day 2- Visual art in daily practice (9 am – 5 pm)
Use of the visual techniques

What if I can´t draw?

Visual art for different target groups

Helpful tools
Day 3- Drama techniques (9 am – 3 pm)
How to include drama techniques in my work

What can we learn from the drama techniques

Newspaper theatre and the power of improvising

Creative writing and storytelling as a tool for career development and education
Day 4 – Going out (9 am – 5 pm)
Exposure as a tool for career development and education

How to use the outdoor activities

Debriefing of the activity
Day 5 – Self-development (9 am – 5 pm)
Art therapy and self-development

Gamification (using games in education)

Connection between wellbeing and art therapy

Personal action plan

Evaluation

Conclusion