Erasmus+ training course: Unique method for recognition of competences based upon CH-Q method in Prague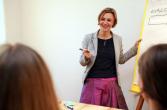 Learn new techniques how to work with clients in the heart of Europe.
Explore a special English training course for career consultants, teachers, psychologists and other professional. Sign up for an intensive 40-hours (5 days) training course based upon CH-Q method and get a comprehensive tool for working with clients - help them grow and identify their strengths, talents and passions. Course could be fully covered by the Erasmus+Programme funding - find out more information.
The trainning course is based on interactive methods and participants will have a chance to try all the activities by themselves.
What is the method on which the training is based upon?
CH-Q is an instrument for self management of competences. It´s a trainning for small groups (8-14 people).
Advantages 
People who are aware of their competences are able to make realistic planning towards their future.
Students, unemployed people as well as employees will have a better view on who they are and which career steps they should take.
People who experience this method are more motivated for their work or study.
Participants are able to take more concious career steps and know where is their value.
This method helps to reach potential of clients and learn them to take responsibility for managing their own life.
For whom is the training?
For counselors, coaches, psychologists, teachers...for everyone who want to get better in their field.
If you  want to help your clients identify their strengths, talents and passion and help them grow.
If you are looking for a comprehensive method that is easily portable for your own needs.
For everyone who wants to get better knowledge of himself/herself.
How does the trainning look like?
Training course lasts 5 days (8 hours per day) and it is divided into two blocks.
First block – 3 days (9 am – 5 pm)
Searching for competences and qualities based on one´s past experience
Overview about the method of recognition competences and how to use it in our professional and daily life.
How to identify key life events and how to work with them.
Qualities in context (Core quadrant by Daniel Ofman).
How to identify qualities and positive traits in others.
Work and life values and how to find them.
Second block – 2 days (9 am – 5 pm)
Identifying needs that are in balance with personal current life situation. Setting up life visions and goals
Change design – how to work with change.
Feedback – how to give it and receive it.
My inner motivation and how to motivate others and myself.
Different approaches in decision making.
How to identify vision and career goals.
Designing the personal development plan and methods of evaluation.
What you´ll get?
 Comprehensive method for a personal development.
You´ll learn how to identify competences in others and how to support them in their career decision making.
Many practical exercises that can be easily applied into your own practice.
Better understanding of yourself and your clients.
You´ll develop your own career portfolio and get a valuable feedback.
Fun – it´s not just about listening to a lecturer. We´re using creative techniques like interviews, art techniques, reflection etc.
When and where the training will be held?
The training will be held in Prague, Czech Republic. You can choose from two terms: 
April 18th - April 22nd 2022
September 19th - September 23rd 2022
What is the price?
The price of 5 days intensive training per person is 690 euro. A non-profit and educational organization can get an Erasmus grant for the admission and also for an accommodation and transportation. Find out how to pay the education from the Erasmus fund in our article here.
Why to chose our company? Find out more about us and our lecturers here.
How to sign up?
If you are interested in this training or other courses for career consultants, let us know by email martin.petras@ekskurzy.cz.  We´re eager to assist you and develop tailor made course that match to your training needs. Just contact us and briefly present your situation.
Note: The upcoming deadline for applying for grants of the Erasmus+ programme is in February 2022. There is only one funding deadline per year and this deadline is for grants for courses we run between summer 2022 and summer 2023.