How to stay sane in the insane world - registration closed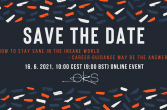 How to live a full and sustainable life in a world full of change and turbulence? How can career counsellors contribute to this? Join our free international online seminar!
16. 6. 2021, 10:00 CEST/UTC+2 (9:00 BST) ONLINE
Download the program here. Registeration is closed.